StopLik is sold only to licensed veterinarians.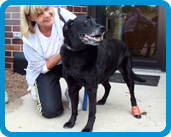 Two of the more difficult challenges veterinarians face are to break the injurious habit of the licking that causes lick granuloma and stop companion animals from licking or bothering bandaged surgical sites.
In both cases, the pet's strong urge to lick is hard for the veterinarian or pet owner to stop.
StopLik is a unique, immediate, simple, effective and safe means of discouraging a pet from the licking that causes lick granuloma or aggravates a wound, delaying healing. StopLik stops the habitual licking that can cause open sores. It also discourages pets from removing bandages during healing, allowing the open sores to be more successfully treated.
StopLik wraps around a bandaged leg or torso to protect the bandage and wound, and delivers a mild electric stimulus to the tongue when the pet licks it.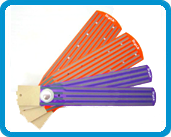 StopLik Lick Deterrent Aids are powered by small electric cells similar to watch batteries and are available in various color-coded widths that can be trimmed to size.
Wide 3"
Narrow 1.62"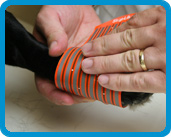 In clinical veterinary trials, dogs and cats stopped licking after only a few attempts to avoid the harmless electric stimulus, about 1/200 of a small static electricity shock. StopLik works on a high percentage of all sizes and breeds of dogs.